See on Scoop.it - Video Marketing for Small Business Owners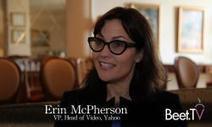 As much as 30% to 40% of the video ad market is comprised of fraudulent or viewerless impressions, says Matt Timothy, President of video ad management platform Vindico, in this interview with Beet.TV.
Robin Carlisle's insight:
And someone actually thought otherwise?
See on www.beet.tv
Robin Carlisle earned her BA in Communications with Concentrations in Corporate Video, Instructional Technology, and Adult Learning at Mercer University / Atlanta. She taught English, Writing, Public Speaking, and ESL in USA and Republic of Georgia schools.
Latest posts by Robin Carlisle (see all)